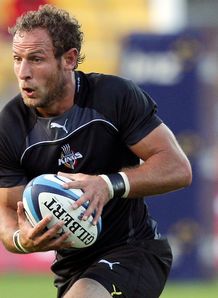 Related links
Teams
Edinburgh have made another signing by bringing in experienced Super Rugby centre Andries Strauss until 2016.
The 29-year-old South African has made 56 appearances in the Southern Hemisphere's top tier, having plied his trade for the Cheetahs, Sharks and, latterly, for Edinburgh head coach Alan Solomons as stand-in captain at the Southern Kings.
The two-time Currie Cup winner and Super Rugby semi-finalist has also represented South Africa in the World Sevens Series - featuring in the inaugural Edinburgh tournament in 2007 - and for the Springboks against the Barbarians in 2010 at Twickenham.
Brother to Leinster and Ireland hooker Richardt Strauss, Andries arrived in the city on Friday morning and, subject to medical examination, will begin training with the squad on Monday at the start of a new chapter in an already impressive career.
"I'm very excited to be here," said Strauss.
"I said during the world sevens series that, if there was a city in the UK that I'd like to play rugby in, then it'd be Edinburgh, so I'm very happy to get this chance in one of the best cities in the world.
"I've spoken a lot to my brother Richardt [Strauss] about the strength of the RaboDirect Pro12 and Heineken Cup and how they compare to Super Rugby so it's a massive opportunity for me to experience a different side of the rugby world.
"Hopefully my experience in the southern hemisphere will benefit me when playing here.
"This is a new team set-up so my first focus is to put in a lot of hard work and not focus on anything else but that.
"My first goal is to become part of a side which has been quite successful this year, and by that I mean settle in to the group and get to know the guys as quickly as possible.
"I'm looking forward to getting on to the pitch and training again, putting the boots back on and getting the body into a couple of contact situations.
"Once I've done that I'll refocus my goals in terms of what I want to achieve with this team."
Solomons welcomed the signing, citing both the short and long term benefits of the new recruit.
"This is very good news for Edinburgh," said Solomons.
"Strauss is a very mature player with a lot of Super Rugby and Currie Cup premier division experience. He did a fantastic job as captain for the Kings.
"He's a big boy, is genetically strong and his conditioning is superb. He's a natural athlete in that sense and will make a valuable contribution to Edinburgh Rugby, both in terms of playing and leadership.
"It's fantastic that he joins us now because he is immediately available for this season and will be totally au-fait with everything for when the new season starts, which makes a huge difference.
"We want to go into next season, particularly with a guy like that, being completely comfortable and established."