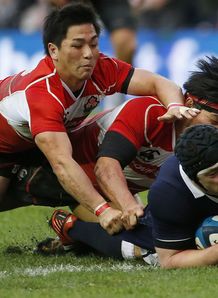 Related links
Teams
Edinburgh have announced that prop Alasdair Dickinson has become the latest Scotland internationalist to extend his contract to 2016.
The 30-times capped front-row rejoined the club on a one-year deal in May, having left the side for the English Premiership back in 2007.
Some six terms at Gloucester and Sale followed before he returned to the capital in his propping pomp to take a firm hold of the one shirt.
With eleven starts in thirteen appearances he has missed just two matches so far this season - once during November's internationals where he featured in all three Tests for Scotland, and the second a rotated rest break. And he clearly is thrilled about signing a contract extension.
"I'm delighted to extend my time here at Edinburgh Rugby," he said.
"It's my home club. I stared my career here in the academy ten years ago and I've really enjoyed it since I've come back.
"I firmly believe in what the coaches are building. There's a great group of lads here and I'm very happy to be part of the plans for a bright future.
"All the staff are so passionate about Edinburgh Rugby as a club and all the players are the same. We're all aiming in the right direction and I think we're really starting to generate that family feel.
"It's easier to get into a run when you play a lot of games and fortunately I've managed to do that this year. The important thing is to maintain that form for the club and the boys.
"I'm well aware that Wicus [Blaauw] is in and around the squad and is a quality player. It's that quality throughout the squad that drives everyone to perform every week because if you don't someone else will take your place."
Edinburgh Rugby head coach Alan Solomons, said: "The important thing is that Dicko [Dickinson] is a great guy to have in the squad and a really good player.
"He has played terrific rugby this season and I think he has every prospect of getting the starting loosehead berth at the time of the Six Nations.
"It's wonderful that we've been able to sign him, together with the other Scottish internationalists, and keep them here at Edinburgh Rugby. I think it only augurs well for the club going forward."