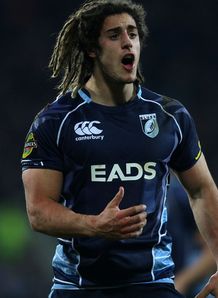 Related links
Teams
Cardiff Blues boss Phil Davies was pleased with his side's game management in their Pro12 win over Treviso at the Arms Park on Saturday.
The game played out under terrible conditions, with fierce rain and swirling winds hitting the Arms Park, and making running rugby challenging.
But with the weather ever-worsening, the Blues kicked on in the second half, and seized control of the tight clash.
"It was a really pleasing win for us. Our control and dominance of the game for the first 40 minutes was unbelievable," Davies told the Blues website.
"We had over 50 per cent possession into a strong wind and were doing really well. We were saying to the players that they were creating space but were a bit nervous with the wind against them.
"It was difficult to pass and you have to accept that. We talked about what to do in the second half and what we did do was control the territory and defended well. I was pleased with the character and control to get that result.
"The squad depth is vital. I have said that from day one and for periods like this that development over the last 15 or 16 months is crucial. That was a decent show of it today against a close to full strength Treviso team.
"The result is great credit to the players and the way they have gone about the training week. We had a training session up against Bath at the start of the week and that gave us confidence. This is a great reward for them and it pushes us up the table."