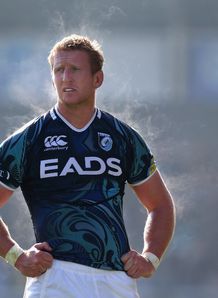 Related links
Teams
Cardiff Blues lock Bradley Davies has credited the feel-good factor after the installation of an artificial surface at Arms Park.
Following the example of Saracens artificial pitch at Allianz Park, the Blues installed their own over the off-season after poor weather conditions over the previous seasons had left the surface unplayable.
The Blues have not made the playoffs since 2007-2008 and finished in a dismal position of 9th last season, with Davies expecting a big improvement.
"This year is about building blocks and getting a good start which is Glasgow away and then two home games," said Davies to WalesOnline.
"We have a fantastic new field and it will be interesting to see how that goes because we try to play a fast flowing game and that will suit us.
"It was difficult to play on before, but that is no disrespect to any of the ground staff there, it is just down to the amount of rain we had and no field could have stood up to that.
"I think it is a wise decision to put in the new field and it has put a bit of a feelgood factor around Cardiff. I think a lot of people are looking forward to coming to watch us play rugby on a state-of-the-art pitch.
"We haven't spoken too much about it (goals for the season) yet, last season we talked about constantly improving and gaining more consistency and I think we did that towards the end.
"We got a lot of stick and flak throughout the season which was disappointing because if you look at most of our games we only lost by one score, so it could have been a lot different.
"Last year it was well documented that we lost 16-players and we were coming to end of a cycle really.
It is going to be a bit of pain first but hopefully we have gone through that now and if you look at our squad we have got a really nice mix. There were boys last year who hadn't played any first class rugby.
"But now we have played Toulon way in the Heineken Cup and we have played Toulon at home and big Leinster teams and big Munster teams.
"So the boys who haven't played much rugby have played against these teams now, and they are a year wiser and a year stronger and know how to deal with it and hopefully we can kick on."