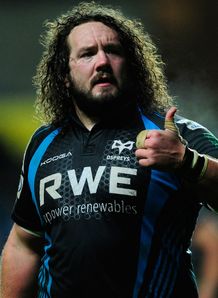 Related links
Teams
Wales and Ospreys prop Adam Jones seems likely to head to Europe at the end of the season but he'll give the region the first chance to negotiate a new deal.
Jones has one year remaining on his contract with Ospreys and he may look to cash in once it expires, with a big money move to Europe a possibility.
While the 32-year-old has not made a decision on where his future lies beyond this season, he says that he'll hear offers from Ospreys first.
"I will give the Ospreys first option to negotiate on a new deal," he told Wales Online.
"I have to do that because they are my region."
Jones has spent his entire career in the area and he hints that it would only be financial security that would see him leave.
"First and foremost I have to look after my family," he said.
"If that means leaving the Ospreys and leaving Wales, then so be it."