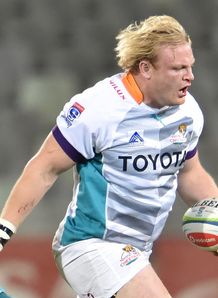 Related links
Teams
Also see
Cheetahs captain Adriaan Strauss was happy with his team after their 27-20 win over the Sharks in their Super Rugby derby match on Saturday.
The hosts edged their local rivals for a morale-boosting victory that saw Torsten van Jaarsveld, Philip van der Walt and Lood de Jager score.
"Everyone, including the guys coming off the bench, had a good game," praised Strauss.
"They really put up their hands and played for one another. A lot of the guys leave at the end of the season and we wanted to give them a good farewell at our home ground.
"I think we achieved that. Next we face the Lions away and we will be looking for another good performance to round things off."
Strauss added on the Sharks: "Good luck to the Sharks. They carry our hopes of a South African side winning the Super Rugby competition.
"I wish them well on the journey that lies ahead of them. It was a very tough game and I am very proud of the guys for the effort they put in."