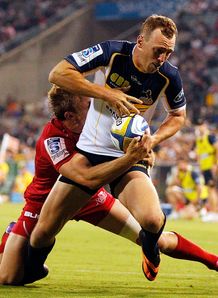 Brumbies full-back Jesse Mogg admits his confidence has been damaged after missing out on selection for Australia.
The 24-year-old has had a difficult season after returning from shoulder surgery, struggling to recapture his best form from 2013.
With Israel Folau leading the way in Super Rugby having scored ten tries Mogg's path to the 15 jersey has been blocked off, but other players were included above him in the squad such as Rob Horne and Pat McCabe.
In order to get his confidence back, Mogg may run out for Wests in club rugby.
"[The omission] summed up my year, I can't really say what's gone wrong. It's hurting my confidence a little bit," Mogg told The Canberra Times.
"But I can't sit back, I'll work on it and try to pull something out against the Rebels.
"I can't let it affect me, I'm sure it will turn soon. I spoke to Ewen and he said they're looking at more consistency from me, I agree with that. You don't want to take guys who are running at 60 or 70 per cent.
"It's disappointing not to be in the Wallabies, but at the same time I half expected it.
"I'll try to get back to club rugby to get some game time and build some confidence. I guess you've got to back yourself.
"I've got to play to my strengths and not do things I don't normally do. I go well when I just play my natural game, but for some reason this year it hasn't fallen that way."