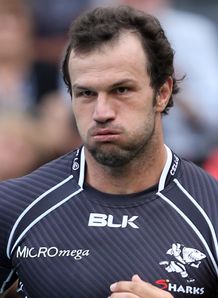 Sharks captain Bismarck du Plessis said his side's game-plan went according during Friday's 29-23 win over the Blues in Albany.
Under World Cup-winning Springboks coach Jake White, the Sharks appear to have developed a pattern and game-plan so economical, settled, and precise that it can be sustained even when they are short-handed.
Some observers of Super Rugby are concerned a tournament win by the Sharks would be a victory for a cynical brand of rugby - unsightly for spectators.
The two yellow cards incurred by the Durban-based side on Friday further emphasized the cynical nature of their game - they slow play and consistently impede opposition ball - but there was still massive admiration for the manner in which they managed to win while reduced to 14 men for a quarter of the match.
The Sharks extended to 10 matches their winning streak over the Blues but, most importantly, return to South Africa with a 3-1 record on tour which ensured they retained first place through the hardest part of their season.
"Three wins against three tough teams, we're happy with that," said Du Plessis.
"We wanted to put them under pressure at scrum time and line-outs and we did that, particuarly in the first half."