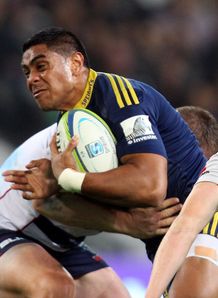 Highlanders outside centre Malakai Fekitoa can be forgiven for being a little nervous over the next couple of days.
Fekitoa is rooming with New Zealand's first-choice number 13 ,Conrad Smith, since gathering for the All Blacks wider training camp in Christchurch on Monday.
And despite doing his best to get the better of Smith in the Highlanders' 18-16 triumph over the Hurricanes in Wellington last weekend Fekitoa was determined not to undermine the 75-Test veteran.
"I was scared at the start, knowing it was him coming in," Fekitoa told Fairfax Media.
"I just can't believe it's happening, me being in the same room as him."
The 22-year-old has been one of the best newbies in this year's tournament.
And despite impressing with some big tackles which rattled the Hurricanes on several occasions at the weekend he is enjoying being on the same side as them in the All Blacks set-up.
"That's what's good about rugby," Fekitoa said.
"You want to smash each other on the field but when it comes to being off the field you are friends.
"I'm just excited to be here.
"I look up to him, he's the best in the world at the moment. Now I've got a chance to learn off him to see what he does.
"It's just unreal that it's happened this quick but that just comes from working hard and being aware of what I have to change to do better."