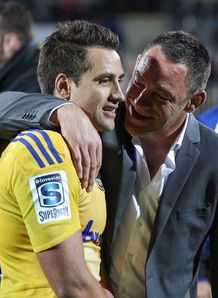 Related links
Also see
While several players leave New Zealand for money, Tim Bateman's upcoming move to Japan will be for more personal reasons.
Bateman revealed after training before facing the Highlanders this weekend that he will be heading to Japan at the end of the season, so his wife can undergo treatment for multiple sclerosis.
With the treatment currently not available in New Zealand, Bateman and his family will move abroad where he will play again for the Coca Cola West Red Sparks in Kyūshū, somewhere he spent time between 2010-2012.
The 26-year-old, who has been recalled to the starting XV this week, will be moving away from Wellington with a heavy heart but to do what's best for his family.
"To cut a long story short, my wife was diagnosed with MS last year and we had to make a decision based on the treatment that was not going to be available here in New Zealand for her,'' Bateman told Stuff.co.nz
''We had opportunities to go to a number of places where the treatment was available, which was pretty much anywhere else other than New Zealand including South Africa, Australia, UK, America.
"She needed to show a level of deterioration before they would fund her for treatment here, whereas we could go away and get it just about anywhere.
''It's been a long process and it hasn't been nice seeing her struggling a little bit and not getting what she needs, so we made the decision to go.
''It was a tough decision. We had to juggle the fact we won't have family support when we are away [in Japan], whereas here she gets that support when I'm gone. But what's more important, treatment or help?
''Everything we read about MS is that treatment early is important, so we've decided to go with that.
''Literally 100 metres from where we lived the leading MS specialist in Japan is there and they've said to us she will be well looked after. They are understanding with the situation and flexible with my time.
''I have a heap more time there than I do here in terms of we don't travel anywhere near as much. We have 14 games a season and six of those are away games and you are only away for one night.''