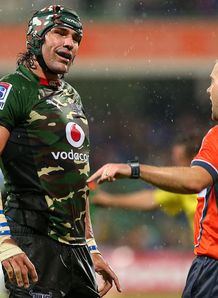 Related links
Teams
Bulls lock Victor Matfield believes his team hit the heights of yesteryear with their win over the Stormers on Saturday.
After going behind to two tries from the visitors the Bulls fronted up physcially and seized control of the game, dominating the tighter exchanges to eventually win 28-12.
Scoring 28 unanswered points was a feat that Matfield and Bulls coach Frans Ludeke both approved off afterwards.
The Bulls are second in the South African Conference and trail the Sharks by eight points.
"A belief is starting to grow in the team, I am very happy with this performance, it felt like the Bulls of old where we really squeezed them," Matfield said.
"We fought our way back in the first half when were behind by a lot, although we dominated the field position, there were one or two breakdowns they capitalised on," said Ludeke.
"It just boiled down to decision making on the field, leadership and it is a great feeling afterwards to have a good win.
"It was really a good win the way we planned it, attack, kicking game and defense, I thought the players were accurate although we fell behind but they kept their cool for an awesome second half."