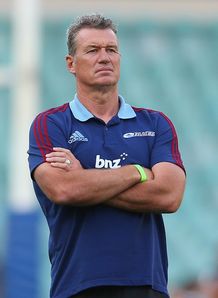 Blues head coach John Kirwan pinpointed the win over the Waratahs as a critical moment in his team's season after a tough week.
Benji Marshall's try and a bad run of results have the left the Blues' season hanging by a thread, but their win over the title favourites from Sydney is a big result.
Kirwan now hoped that the victory will kickstart his side's season, ahead of facing more Australian opposition in the form of the Reds next week.
"Tonight was a critical moment for the franchise," said Kirwan.
"We're heading in the right direction. It was a character test for us as a group tonight and I thought they passed with flying colours, but it's one game.
"We needed the points. We weren't desperate but we were under pressure and we reacted well to that pressure.
"We've got another home game [against the Reds] next week and we need to do that same.
"We're trying to create something here. We've been working hard but haven't had the performance. We want to make this place special for us."