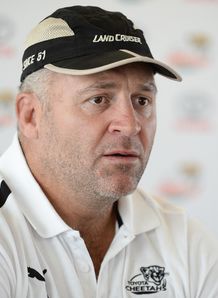 Cheetahs boss Naka Drotske is adamant that playing well on home turf, his side are a match for any of their Super Rugby opponents.
After losing once again to the Sharks last weekend, Drotske's men now prop up the overall standings, and the coach wants to see his charges simplify their game-plan and get the basics right.
"We've been in this sort of position before and it's really important that we go back to basics," said Drotske.
"We need to focus on our set pieces. Good ball from there is what we need to get a good platform to attack from.
"We need to go back to what worked for us earlier in the season and take it step by step.
"We know that if we play well in Bloemfontein, then we can beat any team.
"We need to get rid of those soft moments where we do funny things and then let our opponents back into the game."
Drotske reserved particular praise for recently returned fetcher, Heinrich Brussouw, who showed up well against the table-topping Sharks.
Opposite number Allister Coetzee of the Stormers, whose side travel to Bloemfontein on Saturday, admitted the flanker was a man the Cape Town outfit had to stifle.
"He was thrown into the deep end and he showed how much his physical presence is worth," added Drotske.
"He is definitely a match winner and will be one of the stars in the game.
"Heinrich and Deon Fourie will definitely be at each other at the break downs."
"Heinrich Brussow is very good as a flanker and fetcher and our approach to the breakdown area will have to be very good," said Coetzee.
"We've seen against the Sharks what he is capable of and we know what to expect.
"The same can be said of Adriaan Strauss, who has also proved to be good at disrupting the breakdown area for the Cheetahs' opponents.
"The Cheetahs have a host of quality players and we will come up short if we don't give them the necessary respect."