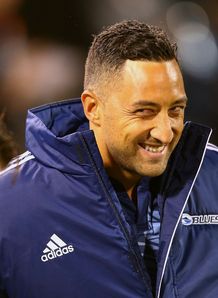 Related links
Also see
The Blues have confirmed that utility back Benji Marshall is seeking an immediate release from his Super Rugby contract to return to the NRL.
The former New Zealand Rugby league captain has battled since switching to the 15-man code and played just one full match, and made five appearances as a replacement, for the Blues since joining the Auckland-based franchise from NRL club West Tigers.
He has instructed his manager Martin Tauber to start negotiations with NRL clubs who might be interested in acquiring his services.
Tauber confirmed that Marshall has requested a release.
"It just hasn't worked out, it is disappointing," Tauber told News Corp.
"He's not had the game time he'd like.
"This has all happened over the last 36 hours."
When asked if Marshall would be returning to Sydney, Tauber said they haven't negotiated with any NRL clubs yet.
"It might be Queensland or it might be NSW, it depends who is interested in him," added Tauber.
It is understood that Marshall made his decision after Blues boss Sir John Kirwan held a meeting with him in which Kirwan suggested he either play the rest of the season in the lower tiers to help prepare him for the 2015 Super Rugby competition or return to rugby league.