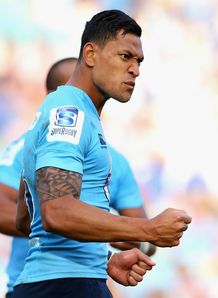 Related links
Also see
Israel Folau's throat injury could keep the Waratahs and Australia star out of the game for up to six months, according to the player.
Folau was withdrawn from the Waratahs match against the Western Force late this week by the Australian Rugby Union.
Despite the Waratahs medical staff clearing Folau to play, ARU doctors stood Folau down from taking part in Perth.
The late withdrawal hugely frustrated Folau, who revealed he had no contact with the doctors that made the decision.
"Obviously I'm very disappointed and frustrated at this stage, but the ARU have made a decision and I'm not happy with it," Folau told Fox Sports.
"I'm very confused at this stage. I've spoken to [Waratahs team doctor Sharron Flahive] and the specialist that I've seen here in Perth this week.
"They said that I was good to go, with the risk that I was well aware of, but obviously the ARU have stepped in and I'm very disappointed. I haven't had any contact with the ARU medical staff this whole week.
"In this whole situation I think I'm the most important person they've got to contact and I haven't spoken to any of them, so in terms of that, I'm very disappointed."
Asked when he expected to return, Folau said that he could be out of the game for as long as six months.
"I am going on the advice that the specialists have said to me," added Folau.
"If you want to make it 100 per cent, it potentially could take that long."