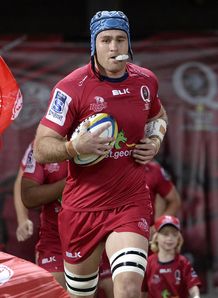 Brumbies captain Ben Mowen said he was "extremely pleased" with their 23-20 win over Australian rivals the Reds at Suncorp Stadium on Friday.
The victory lifted the outfit from Canberra nine points clear of the Reds and also to the top of the overall standings ahead of Saturday's matches.
And the result clearly delighted Mowen, whose men now enjoy a bye week ahead of returning to action against 2013's final opponents, the Chiefs.
"We are extremely pleased with the win," he said.
"It's a difficult place to come and win, the Reds are a good side anyway, but when they play at home they grow an extra leg.
"I thought the way we defended in the second half was outstanding in the end."
Their opponents are also now on a bye round but head into theirs on the back of two home defeats, against the Force and now this one to the Brumbies, which is a concern for James Horwill.
"We needed to capitalise on things we did earlier in the match, we built some good pressure," said the disappointed skipper.
"That's probably the third or fourth result that we've lost by three points so we need to be better."