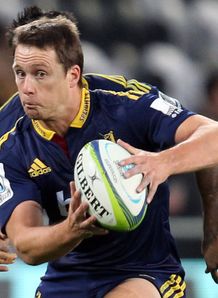 Highlanders captain and full-back Ben Smith praised his side's defensive effort during Friday's 27-20 victory over the Bulls in Dunedin.
Jamie Joseph's men defended stoutly throughout the second half, denying the Bulls who had a substantial advantage of territory and possession.
The home side won more than a dozen turnovers at breakdowns, costing the Pretoria-based franchise the chance to build sustained pressure, and blunted the Bulls' dangerous line-out.
The win ensured the Highlanders head into a bye next week in a strong position, having moved as high as fifth place ahead of the remainder of the weekend's ninth round matches.
"There was a lot to be proud of there," said Smith.
"Probably just our ticker.
"We just stuck in there and defended our line really well so I was pretty proud of the boys. All of the coaching staff have done really well this week and the boys executed the plan well so happy to have a win."
The Bulls started strongly, playing an enterprising brand of rugby and raced into a 13-3 lead midway through the first half but the Highlanders struck back and levelled the score at 13-13 at half-time.
But despite having the bulk of the possession and territory, the visitors didn't capitalise on their dominance.
"We pretty much fell asleep (in the second half)," said Bulls captain Flip van der Merwe.
"We had all the possession but just couldn't convert."