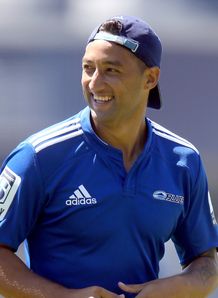 Former All Blacks fly-half Andrew Mehrtens has defended the Blues' league convert, Benji Marshall, who is battling with his transition to rugby.
Marshall has played mostly off the replacements bench since joining the Auckland-based franchise but Mehretens believes the 29-year-old has the ability to succeed.
"He really hasn't had much opportunity, I think (critics) need to cut him a little bit of slack," Mehrtens told Fox Sports.
"He's learning a new game, you know what it's like. There are a lot of skills that cross over from league to rugby and vice versa, but you've got to get the feel of the game."
Mehrtens feels Marshall decision to leave the NRL has been undermined by the Blues decision to play him at fly-half during most of their pre-season matches.
"I think that was a bit unfair on him," he added.
"You don't want a guy like that who's just a natural ball-player and a skilled, skilled guy, you don't want him tied down with organisation or trying to run the rest of the team.
"Give him a bit of freedom, put him at 15 and let him come in. He showed a lot of energy in that first week against the Highlanders. He wants to run angles, once they get used to running off him I think it'll make a massive difference."
Several critics have already labelled Marshall's decision to join the Blues as a failure but Mehrtens, who represented the All Blacks in 70 Tests, rated Marshall's transition a "seven or eight" out of ten.
He acknowledged that Marshall's cross-field running - a habit brought over from rugby league - would not help his cause until his team-mates realised which angles to run off him.
"I remember playing against like Carlos Spencer, and he was a genius with the ball in hand," Mehrtens said of his rival for the All Blacks pivot position.
"But he wasn't that effective until the other guys started learning how to run off him and react to his play.
"He (Marshall) just needs more game time. Honestly, I think stick with him. Give him more and more time on the field. He may not be a starting XV guy but give him the time on the field and have a bit of patience with him."
Marshall will be on the Blues' replacements bench for Friday's encounter with the Brumbies in Canberra.