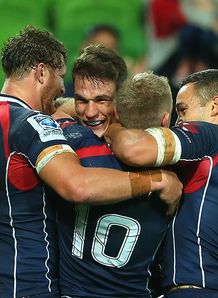 Rebels captain Scott Higginbotham praised his team-mates for sticking to the pre-game plan as they overcame the Brumbies 32-14 in Melbourne.
Friday's result saw the home side come from 6-17 down with 30 minutes to play and secure a much-needed win that delighted their skipper.
"It's what we have been talking about all week, you have got to be physical against these blokes and it was good to see it come off," said the eight.
"Credit to the boys, we hung in and kept playing our own game the whole time."
This was only the Rebels' second win in seven attempts against the Brumbies, making the loss difficult for visiting captain Ben Mowen to take.
"They gave us a good lesson in energy, particularly in the last 35 minutes and in this competition you can't assume things are going to happen, you've got to make them, and I thought the Rebels did that tonight," he said.
"I think there were some flat spots in our game and the Rebels exposed that well and truly. It's a difficult place to come down here and play and they always play well at home."