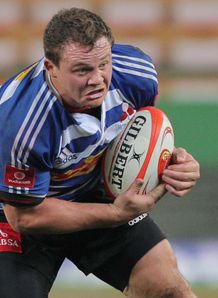 Stormers flanker-cum-hooker Deon Fourie says the arrival of youngsters in the franchise's touring party keeps the team fresh.
The 27-year-old spoke of the positive influence new boys Tazz Fuzani and Sikhumbuzo Notshe, who arrived in Brisbane ahead of Saturday's clash with the Reds, following in the footsteps of fellow juniors Jurie van Vuuren and Stephan Coetzee.
The quartet replaced some of the squad's senior players, the likes of Schalk Burger and Tiaan Liebenberg, who were forced to return to Cape Town through injury.
"It's never great to lose players to injury, but when you see the youngsters arrive with a spring in their step it keeps you feeling positive," said Fourie.
"I remember my first Super Rugby tour, having flown over as a replacement myself, and you can see that these guys are determined to make their mark and challenge for a full-time place.
"For us, as the senior guys, we try to help and guide the newer guys as much as possible, but having these new guys in the mix, learning their trade at Super Rugby level, can only be a good thing for our rugby in the future."
With injury ruling out Liebenberg and a spree of other forwards, Fourie is set to revert to the role of hooker, having proved a stand-out in the back-row for the Stormers this season.
"I haven't played at hooker since last year's (Super Rugby) tour, but it's not as if I've never played there before," added Fourie.
"It's all about getting one's rhythm back (as a hooker) and once you've got that back it's kind of like riding a bicycle - you never forget the finer details."