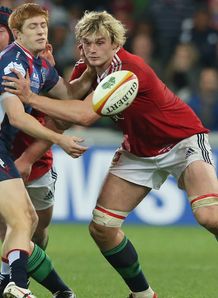 The Rebels have been handed a boost ahead of their clash with the Brumbies after Nic Stirzaker signed until the end of Super Rugby 2015.
The talented former Sydney University player will spend at least his fourth season with the club, after originally signing for 2012's campaign.
Stirzaker has made sixteen appearances for the Rebels, including playing against the British and Irish Lions at AAMI Park, with injury preventing him from adding to his tally thus far in 2014. He has recently recovered from an ankle injury and is in contention to make his first appearance of the 2014 Super Rugby season against the Brumbies.
Stirzaker, who lives with fellow Rebels Tom English, Jack Debreczeni and Angus Roberts, was pleased to commit to another year in Melbourne, where he now feels at home.
"I'm really pleased to be re-committing to the Club; I believe that the Rugby program in place here will help deliver big things," he said.
"I'm very happy to be staying on longer with fellow teammates such as Bryce Hegarty, Tom English and Scott Higginbotham, who have also committed to the Club. We have a really tight playing group and it's one I definitely want to be a part of long term.
"I'm thoroughly enjoying working under Tony McGahan, with the changes he has brought in around the club along with Bryce Cavanagh in terms of culture, training and performance standards and expectations. That combination of factors made it a very easy decision - I was never going to go anywhere else."
Rebels' head coach Tony McGahan was pleased to see Stirzaker extend his current deal.
"Everybody involved in the organisation is delighted that we have Nic on board for at least an additional twelve months," McGahan said.
"Unfortunately he has been injured this season, but he'll get an opportunity this weekend to get some game time and we are looking forward to getting him out on the pitch.
"He trained outstandingly during the pre-season prior to hurting his ankle. Nic has such a keen sense of competition with high ambitions, and has a really good demeanour within the group in regards to expectations of his teammates and himself."