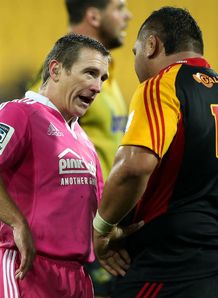 Related links
Also see
SANZAR has relieved four referees - Stuart Berry, Francisco Pastrana, James Leckie and Lourens van der Merwe - of duty due to performance.
Berry, along with Angus Gardner, Andrew Lees and Matt O'Brien, are not scheduled for primary refereeing appointments in the coming fortnight.
That quartet will be considered for Rounds 9-10.
Van der Merwe and Francisco Pastrana have been stripped of refereeing duties this weekend and are replaced by Steve Walsh and Nick Briant.
"We have always strived to have strong accountability within our team and importantly, accountability for the competition. As such, we have always sought to conduct ourselves in a fair, transparent and open manner," said SANZAR Game Manager Lyndon Bray.
"One of our core strategic objectives is to grow the depth of the team that is able to referee 'any game, any time.' In line with this, we have reduced the size of the team heading into the next phase of the competition and in doing so, have recognised who has performed to expectation and who has not.
"The aim is to give this smaller pool of referees more game time so when it comes to the Finals Series, there's a great deal of pressure around who will earn those highly sought after appointments and from a Super Rugby perspective, that the competition is getting a consistent high standard of refereeing."
ROUND 7 (revised appointments)
Crusaders v Hurricanes - Nick Briant
Rebels v Brumbies - Jaco Peyper
Blues v Highlanders - Steve Walsh
Reds v Stormers - Chris Pollock
Bulls v Chiefs - Craig Joubert
Sharks v Waratahs - Mike Fraser
ROUND 8 (no change)
Highlanders v Rebels - Chris Pollock
Brumbies v Blues - Rohan Hoffmann
Hurricanes v Bulls - Steve Walsh
Reds v Force - Garratt Williamson
Cheetahs v Chiefs - Craig Joubert
Lions v Crusaders - Marius van der Westhuizen
Stormers v Waratahs - Glen Jackson