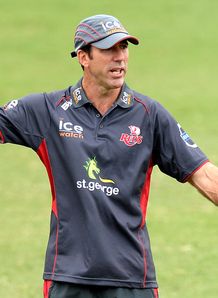 Related links
Also see
The Reds were fuming after they finished their South African tour with a 23-20 defeat to the Lions in Johannesburg on Saturday.
The Brisbane-based outfit surrendered a 17-point lead and most of their wrath was reserved for South African referee Stuart Berry, who awarded 17 penalties against the 2011 champions.
By contrast, Berry only penalised the Lions on four occasions and the Reds were forced to play the final 10 minutes with 13 men, after James Hanson and Jake Schatz were sent to the sin bin.
''I've never seen that in a game before in my life,'' Reds coach Richard Graham told AAP of the penalty count.
''It would be fair to say that I felt aggrieved at the end of the match when we were down to six forwards and a back on the scrum and we're going forward and [the Lions front row] stand up and we're not rewarded.
''And I feel aggrieved that they throw the ball into the line-out not straight at the end of the game.
''But credit to [the Lions]. They are a spirited side and they scrap and fight for everything.''