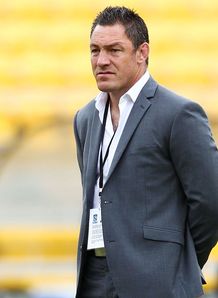 Hurricanes boss Mark Hammett was delighted to talk rugby rather than about his future after the 60-27 win over the Cheetahs.
The Canes ran in nine tries past their South African visitors on Saturday to pick up their first win of the campaign and five league points, although they still remain bottom of the New Zealand Conference.
Heading into the final year of his contract, critics were calling for Hammett's dismissal following three straight defeats at the start of the season.
Hammett has had to answer more questions about his future than the actual fortune of the Hurricanes on the field, something he addressed following the win.
"It has been a tense week. It was interesting going to a press conference with you guys and I didn't get one rugby question," Hammett told Fairfax Media.
"Everyone feels that not just myself. The team feels that and I thought they were good in how they fronted.
"I suppose one of the things out of last week [losing to the Brumbies] was we actually had one bad game and we talked about the disappointment and the anger that came with putting in a performance like that at home.
"But leading in to that we'd put up two really good performances in Africa against two really strong South African sides and all of a sudden we had a bad one last week and it was like the blimmin' sky had fallen in."