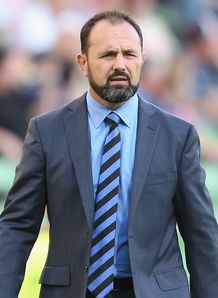 Western Force boss Michael Foley hailed his side's performance in their 32-7 bonus point win over the Rebels in Perth on Saturday.
The Force were under pressure, after losing their two opening matches to the Waratahs and Brumbies, but they controlled proceedings from the outset and victory was a fitting tribute to their captain Matt Hodgson, who was playing in his 100th match for the Perth-based franchise.
"The boys went out there and worked hard like they do every week but there were a few things we got right tonight that we haven't in the first couple of games," said Foley.
"It's a credit to the players as they come under enormous criticism and I don't think they are given the credit they deserve.
"They had a particularly tough challenge up front against the Waratahs.
"The guys fought back last week and showed tremendous character towards the back end of the game.
"The way they responded to the criticism this week was very good."
Hodgson, who scored one of his side's four tries, hailed the victory as a memorable occasion.
"I remember my first, my 50th and now my 100th and I think that's the best 30 minutes of football we've played as a club in its entirety," Hodgson said.
"To come out and play like that and show people what we've been working on and the style we want to play is something I'll never forget."