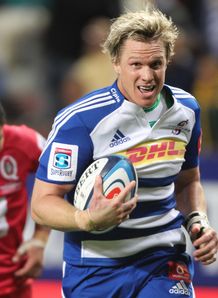 Stormers skipper Jean de Villiers says his side are relishing the prospect of taking on the Crusaders in their own back yard.
The Cape Town-based franchise suffered a surprise defeat to the Lions in Round One, but managed to pip the Hurricanes at Newlands this weekend.
Now, de Villiers' men face the Canterbury outfit - who have yet to register a single point in the New Zealand conference - on Saturday, and have been contending with some nasty weather conditions since landing in Christchurch on Monday.
"It's been really cold, wet and windy here the past few days and it turned for the worse today..in fact, we lasted only twenty minutes at training," said de Villiers.
"We decided to postpone training as it wasn't ideal conditions to get things done. I must say it's probably some of the worst weather I have experienced in New Zealand and it's meant to be summer here.
"Simply put - it's a great challenge for us against a very successful Super Rugby franchise," added de Villiers of the prospect of tackling Todd Blackadder's men.
"Playing against the Crusaders is really tough, as you can note by the fact that no South African team has won there in ages. But that also means it's a great challenge for us. If we win there we would have achieved something special, something we haven't achieved in the past and it's a great challenge for us as a young squad."