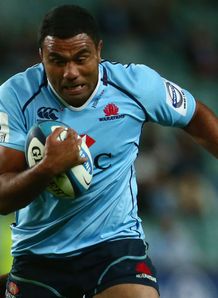 Waratahs boss Michael Cheika has paid tribute to powerful number eight Wycliff Palu, who is in fine form for the NSW franchise.
31-year-old Palu's excellent performances in the 'Tahs' opening two Super Rugby victories has not gone unnoticed by his team-mates, though Cheika's own praise is tougher to come by.
"He's a bit of a mirror for our team; consistency is key and every week we make sure the performances are tuned in for him," Cheika told Fairfax Media.
"He's doing well for us now and I'm sure if he keeps doing that we're going to get advantages out of his play."
The Wallaby himself attributed his barnstorming start to the season with a full pre-season training plan behind him; a time of year that has often been disrupted by injuries.
"The last time I was in this shape was 2008-2009 and that was before the knee injury and all those consecutive injuries," said Palu.
"You can say I had the time to work on a few things and get into the shape I was in back then.
"It's been good, I've played five games in a row now [including trial matches] and that's all I've got to keep doing. It doesn't matter what level, whether it's club rugby or whatever, I just have to keep playing."
Cheika played down the ever-increasing hype surrounding his side, who thumped the Reds 32-5 on Saturday.
"There's going to be a lot of talk about the win but we need to stay level and understand that we're just at the bottom of the mountain," added Cheika.
"There's two games gone, 14 to go . . . We don't need anything else to sharpen our focus than to think back to round two or three last year when we got tonked by the Brumbies, and that game is coming up next.
"We just need to get ourselves ready to play that game and then one game at a time develop what's lacked for us over many years, and that's consistency."