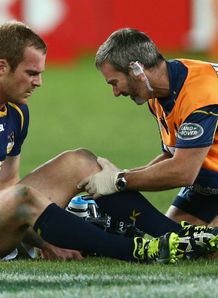 There was good news on Sunday for Brumbies centre Pat McCabe, who has not suffered a recurrence of a twice-broken neck injury.
McCabe was withdrawn at half-time during the Brumbies' comfortable win over the Western Force and taken to hospital in a neck brace, but - though the midfielder may face further scans - the signs are good at this stage.
''It hasn't shown any issues, so it looks like things are OK to progress as per normal,'' Brumbies Director of Rugby Laurie Fisher told Fairfax Media.
''I'm not sure if he's going to have anything more when he gets back home, but certainly the testing last night hasn't shown up anything.
''It looks like at this stage it's nothing to do with a previous injury and it's nothing that's going to be an issue ... at this stage it's looking good.''
Flanker David Pocock was also substituted late on in the Brumbies' victory, with fears rising over his knee; the same injury that kept him out of the British and Irish Lions tour and The Rugby Championship.
''He's got no real swelling in that knee,'' added Fisher.
''At this stage there's no great concern.''