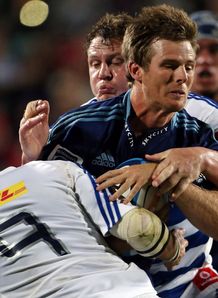 Chris Noakes is set to start at fly-half for the Blues when they face the Highlanders in their season opener in Dunedin on Saturday.
The 28-year-old, who has started most of the Auckland-based franchise's pre-season matches on the replacements bench, is set to replace rugby league convert Benji Marshall in the starting line-up.
Despite taking a back-seat to Marshall in those games, Noakes is backing himself to perform if given the opportunity to start.
"I was always confident in what I could do," Noakes told TVNZ.
"Benji's arrival hasn't thrown me or dented my confidence."
Noakes played 12 matches for the Blues in 2014 and has now jumped ahead of Marshall in the pecking order.
"If we don't think that Benji's quite ready then we won't expose him," said Blues boss John Kirwan.
"Like I've always said this is a long term project so we're running him a bit more these first few days at full-back."
With Noakes set to wear the number 10 jersey this weekend, Marshall could still be included in Blues' starting line-up.
All Black utility back Charles Piutau could be sidelined with a leg injury which could see Marshall starting at full-back.