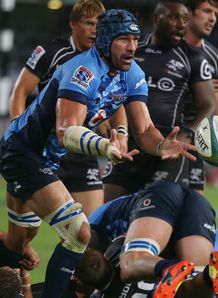 Related links
Also see
Bulls coach Frans Ludeke believes Victor Matfield will improve as the season progresses as he continues his comeback.
The Springbok legend, who came out of retirement last month, appeared off the bench in the second half of Saturday's loss to the Sharks in a tough start to the Bulls' Super Rugby campaign.
Ludeke, whose side scored a late consolation through Jono Ross, was satisfied with Matfield.
"I thought that the longer he played, the better he became," said Ludeke.
"But he's a classy player and had immediate impacts in the line-out. He will just get better as the competition goes on, that I have no doubt about."
"This must be the easiest way the Sharks have ever beaten us," added the coach.
"We conceded so many soft turnovers and gave away two easy tries. That gave them the momentum for the game. So we lost against ourselves I feel, particularly in that first half."