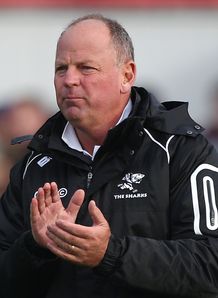 Sharks Director of rugby Jake White lauded the contribution of his new captain Bismarck du Plessis in Saturday's bonus-point victory over the Bulls in Durban.
The home side scored four tries to one for a 31-16 triumph at Kings Park in the opening game of the 2014 campaign and first for the new boss since taking over late last year.
Patrick Lambie scored a late try after the final hooter had sounded to secure the additional log point and White praised his captain for going for the try.
"Bissie is still a young captain and would have taken a lot out of that performance. I thought he handled his composure well and got the players behind him," said White.
"That fact that in that last play of the game he took it upon himself to call the play, he knew exactly what he wanted to do and we ended up scoring the last try.
"So he'll get a lot of confidence out of the fact that the players really looked up to him and when it really counted, he called the right play."
"I can't remember when last a big derby against the Bulls got you five points and I don't remember when last the Bulls got beaten by four tries," said White.
"So you've got to be pleased with that. The nice thing about it all is that it's the first week out, we haven't played as well as we could and yet we still got a bonus point."
The visitors lacked their regular accuracy with the boot and were made to pay for errors, while White's side fully lived up to their tag as one of the pre-tournament favourites.
But the former Springbok coach was not entirely happy.
"We probably gave away too many penalties and free-kicks when we had ascendancy at scrum time.
"But we back our scrum and those are silly penalties. But I don't want to sound negative. If those are things we can get right, then we can only get better."