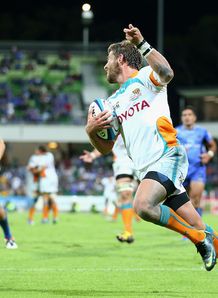 Cheetahs coach Naka Drotské will not be shackling Willie Le Roux's free-running style into a structure, hailing his ability.
The 24-year-old enjoyed an outstanding year in 2013 for the Springboks at both full-back and on the wing, making him one of the Cheetahs' star players.
Renowned for his attacking talent, Drotské confirmed that there were no plans to contain Le Roux with in any set structure.
"Willie is one of about five percent of those players in the world that you cannot bind within your conventional structures. He has shown in the past that his decision-making is probably the best of any player in South Africa," said Drotské.
"I believe it will be fatal if we hamper his skills by forcing him to adhere to our structures. He always gets the benefit of the doubt and he always makes the right decisions. He has the freedom to do whatever he wants on the playing field."
Drotské added that there was pressure on the Cheetahs to back up their wildcard spot from last season, despite concerns over the depth of their squad.
"There is definitely pressure on us, it won't help to deny that," added Drotské.
"But we are confident we can reach the playoffs this year, therefore, it isn't negative pressure."
Drotské was also happy the growing centre partnership of Johann Sadie and new signing from the Bulls, Francois Venter.
"Our new centre combination of Johann Sadie and Francois Venter is gelling very well. It is always difficult to replace a player like Robert Ebersohn [who joined Montpellier] with regards to intensity and defence," stated Drotské.
"Francois has shown he is good on the attack but also that he is no weak defender. He will be one of the surprises of the season."