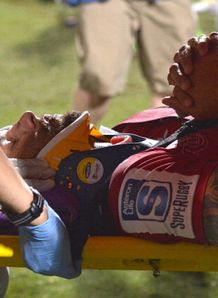 Australia fly-half Quade Cooper was stretchered off during the Reds' surprise 18-13 loss to the Rebels in Friday's trial match.
The injury occurred late on, as Cooper took a juddering hit that left him prone on the turf. He will undergo precautionary head scans, with concussion and traumatic brain injury a concern, but Reds boss Richard Graham was confident his play-maker would make a swift recovery.
"He's all right," said Graham.
"I had a chat to him and he's in good spirits but it (scans) is one of those things we have to do.
"My expectation is that he will (play the Brumbies). He's come off, he's alert, he's talking, he's disappointed.
"He was facing away from where the ball was and someone has got him with a shoulder in the middle of the back."