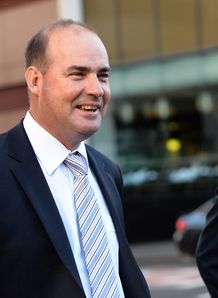 Former South Africa and Australia international cricket coach Mickey Arthur has been appointed as the Western Force's head of their expanded development program.
The Force has unveiled its ground-breaking 'Future Force' program that will provide rugby opportunities in Western Australia for talented young players from both Australia and abroad with a view to broadening and strengthening the local rugby player base.
The Future Force will identify outstanding local players and relocate talented young athletes to Perth, and fast-track their rugby development through a full-time program that addresses the players' physical, rugby and vocational requirements. Through the program, players will be integrated into the local rugby and broader communities.
The injection of gifted players from outside Western Australia will assist to continue to raise the level of club rugby in the state, with a view to seeing more local players progress to the Western Force.
Arthur will act in a mentoring role and co-ordinate the three aspects of the program.
South African Arthur, who has made his home in Perth, is keen to contribute to the growth of rugby in Western Australia through the Future Force.
"Having had an interest in rugby over a long period of time, it's very exciting to be involved with a program like this," he told the Western Force's official website.
"Perth is a dynamic, wonderful place to live with a growing appetite for rugby, and this opportunity will excite a lot of young players not only in Perth and Australia but around the world.
"For the players, this is about providing a holistic program - rugby, education and careers advice as well as social introductions - for those hungry for an opportunity and wishing to live their rugby dreams.
"Perth is now home for a large number of people with a rugby background and we've already had a lot of interest and support for this program in Perth."
Players will receive holistic support for their rugby and athletic development through elite coaching in the RugbyWA and Western Force pathway programs; assistance with education and careers aspirations through partnerships with a number of Western Australia's leading educational and vocational institutions; and social integration into through Western Australia's strong club rugby network.
The Future Force continues the Western Force's focus on promoting local talent with the 2014 extended squad featuring a record eight players, including Kieran Longbottom, Kyle Godwin, Zack Holmes, Dane Haylett-Petty, Luke Burton, Ryan Louwrens, Ollie Hoskins and Brad Lacey.
This has been complemented by the Western Force's recruitment of New Zealand and South African players following player concessions from the Australian Rugby Union. This innovative recruitment strategy has enabled the Force to move away from a reliance on the east coast-based Australian player pool.
RugbyWA CEO Mark Sinderberry said it was important to think outside the square with regard to the club's recruitment strategies.
"Our first priority is growing the game in Western Australia and the primary objective of the Future Force program is to broaden our rugby base here in the state," he explained.
"We're certainly a state that's faced with a number of unique challenges predominantly by virtue of our isolation, and that requires us to take a different approach with regard to a number of our operations, including recruitment.
"This program is about accelerating the number of home-grown or home nurtured products through to the elite level and we believe we can do this by identifying outstanding young players early and weaving them into the fabric of our club rugby and local communities.
"We envisage that we'd receive between five and 10 players into the program in the first 12 months and between 10 and 15 after that. These players would be evenly distributed amongst our local clubs with a view to seeing them progress into the Force ranks after a few years."
The Future Force program will now begin a process of talent identification with the first induction of players to take place in 2014.