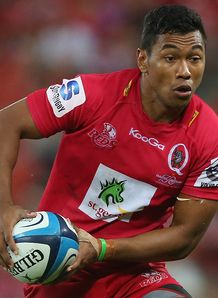 Reds full-back Aidan Toua looks set to miss the opening match of the Super Rugby season against the Brumbies due to a hamstring injury.
The talented 24-year-old is no stranger to hamstring problems after suffering a tear that forced him to miss most of the 2012 season.
In total, Toua has only made five appearances for the Reds over the last three seasons thanks to injuries.
Toua appeared set to start at full-back for the Reds at the beginning of the 2014 campaign after impressing in the Reds' 31-20 pre-season win over the Chiefs last weekend in Toowoomba.
New signing from the Waratahs, Lachie Turner, will now line up in the 15 jersey for Friday's pre-season friendly against the Rebels after starting on the wing last week.