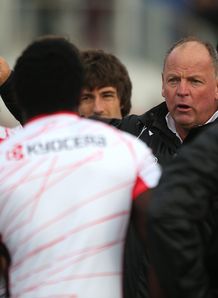 Sharks boss Jake White was delighted after his side's crushing 57-14 defeat of the Lions in a pre-season game at Ellis Park on Friday.
Pieter-Steph du Toit, Lwazi Mvovo, Frans Steyn, Stephen Lewies, and Jaco van Tonder all crossed the whitewash, while there were braces for Odwa Ndungane and S'bura Sithole.
"What we wanted out of this game was to get stuff right," White told the Sharkswebsite.
"The things that we worked on, we got right, and that gives confidence which is exactly what you want out of these games. I said to the guys afterwards that we came out of the game without injuries and we got what we wanted out of the game and got individual performances where guys put their hands up.
"We got unit performances where they work well as a unit, combinations worked well, the team played well. So one flows into the other. Sometimes combinations might not gel even though the team looks like it's ok, or sometimes the team plays well and individuals played badly. So for us what was so pleasing was that all of those boxes were ticked. It made no difference who the Lions put on to play for them, we were always going to go there with a checklist of what we wanted to get right and some of those things we got really right which is also pleasing."
Sithole in particular caught White's eye, shifting in-field from his usual slot on the wing to start at outside centre on Friday.
"S'bura at 13 was unbelievable," added White.
"He was phenomenal, actually. That bodes well for us because we are probably a bit short in the centres, especially at outside centre, so for him to have played the way he did and to put up his hand as he did, was obviously very pleasing. He's a case in point of a player taking his chance. He definitely made people sit up and watch."
One combination that will whet the appetite of Springboks fans was the fly-half-inside centre axis created by Pat Lambie and Steyn; one White was keen to credit.
"Don't underestimate having Francois Steyn next to Patrick Lambie and the fact that anything that happens outside them is always going to be dangerous," acknowledged White.
"Having a 10-12 combination like that adds value to everyone else outside them.
"And that's what was so pleasing about S'bura coming in and playing so well. He played without those two guys and I wonder what he'd be like if he played in combination with those two.
"We have an attacking backline and considering we don't yet have JP Pietersen back yet, when he does, there is more value there. The forwards are talented, it's about making sure we keep those backs fit and strong."