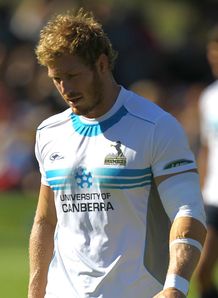 Wallabies flanker David Pocock has made an impressive return from eleven months on the sidelines in the Brumbies' Super Rugby pre-season games.
Following on from a half against the Highlanders last week, Pocock played a solid 40 minutes showing no signs of the knee injury that ruined his 2013 season as the Brumbies romped to 67-0 trial thrashing of an ACT XV in Canberra.
"There were a lot of cobwebs last week, so it was good to get a bit more rhythm in defence and attack," Pocock told AAP.
"Every week coming back from such a long term injury you feel a bit fresher and the lungs aren't burning as much."
The one-sided encounter leaves the Brumbies full of confidence ahead of their season opener against the Reds on February 22.
"You always want to take in a decent score when you're going in to a contest like we've got against the Reds," said Brumbies captain Ben Mowen.
"The reason we were able to score that many points was because our breakdown numbers were very good, and the skill that the guys had at wide were very good for this time of the year."