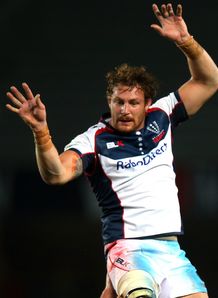 The Rebels claimed a deserved 33-28 victory over the Waratahs in a a Super Rugby warm-up match in Albury, New South Wales on Saturday.
In a game played in 40-degree heat, the Melbourne-based franchise scored three late tries to beat their more fancied opponents, who had former Rebel Kurtley Beale in their side at fly-half.
The Rebels battled during the early stages and trailed the hosts 21-12 at half-time.
The Waratahs got off to a flying start when scrum-half Brendan McKibbin ran through to score without being touched after just two minutes.
This was a huge setback for the Rebels who had placed a huge emphasis on improving their defence under new coach Tony McGahan.
Rebels captain Scott Higginbotham admitted that conceding points so early on was due to a lapse in concentration,
''That was disappointing'' he told RugbyHeaven.
''We obviously talked about defence and how much we put into defence during the pre-season so that was a tough one.
''But it's a trial, the first trial, it was a bit of a lapse in concentration and you could see that we felt our way through the game and the defence really came on in the second half.''
But they recovered and kept the Waratahs scoreless for 30 minutes by improving on defence and being more adventurous on attack.
In all, the Rebels scored five tries with Tom English, Jason Woodward, Ben Meehan, Bryce Hegarty and Mitch Inman all crossing the whitewash.
The result offers plenty of promise to McGahan ahead of the start of their Super Rugby campaign.
''We're really happy to get the result but really delighted for the players who put a lot of hard work in,'' said McGahan.
Higginbothanm's performance - in his first game back since a shoulder injury sustained last season - was one of the highlights for the Rebels.
''That was hopefully the hottest game I will play this year,'' Higginbotham said.
''I went all right. It's been seven months since I played and I just wanted to feel my way back into it and I felt like I did that but plenty more to go and I've got a long way to go.
''I think the team went well. We started a bit slowly but that's to be expected in the first trial.''