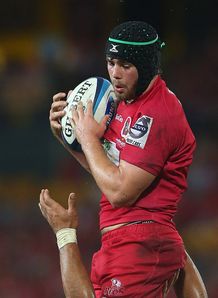 Reds openside flanker Liam Gill wants to take his game to new heights in 2014, and is keen for the season to get underway.
After returning from his second Wallabies end-of-year tour, Gill feels his game is improving but there are still specific areas that he believes he can work on.
"I've worked a lot with Quade (Cooper) in the off season as well as Richard (Graham) and our attack coach Steve Meehan, in identifying my role in attack and what works best for the team," he told the Reds' official website.
"I'm working on finding a bit more flow in my game to help the team out and that's what we've been focusing on, just understanding the flow of our attack and how what my role is in the attacking structure."
Gill is also confident that he can continue to push for Wallabies selection and is looking forward to taking on his direct competition in the Brumbies' David Pocock and Waratahs' Michael Hooper in the opening two games of the season.
"I think my game is getting better and I'm adapting to Rugby at a Super level but attacking and set piece structures are the areas I can still improve on," added Gill.
"Hopefully I go head-to-head with David Pocock and Michael Hooper first up."
Reds head coach Richard Graham believes the competition in the backrow will help drive Gill and other players.
"I'm a huge fan of Liam, over the ball he is the best in Australia," said Graham.
"His line-out ability is a real strength, and some of the things you saw in terms of his skill set last year, I think people were left astounded.
"But he still has a lot to develop and he still has a lot of competition here with Beau Robinson and Ed Quirk for that position so it's going to be fantastic for us here at the Reds."