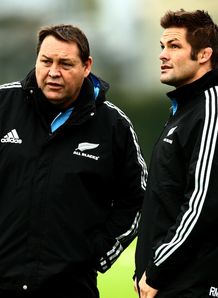 Crusaders boss Todd Blackadder has stated New Zealand skipper Richie McCaw is not guaranteed to claim the number seven jersey.
With the precocious Matt Todd initially expected to be sidelined until March with a torn pectoral muscle, it was somewhat taken for granted that 124-times-capped McCaw would fill the Crusaders openside slot.
But Todd's recovery from the injury has been well ahead of schedule, and he could now be fit for the franchise's first pre-season fixture against the Highlanders on February 7th.
"Probably seven," McCaw told reporters when asked where he wanted to start.
"But with Matt Todd coming back with injury ... Hopefully I will be playing seven but if there other reasons to play elsewhere then I will do that.
"To be honest that is my best position.
"If I can play there, that is where I intend to play. And I think Toddy realises that. But if someone is injured and there is a need [to change] then Matt goes pretty well there too."
33-year-old McCaw has been tipped for a shift to the blindside flank, and has not started at seven for the Crusaders since 2012 thanks to injuries and a sabbatical spell away from the game.
"I will look at all options. I see Richie has being a 6 as well," said Blackadder.
"Matt Todd was one of our better performers last year. I don't want guys sitting on the bench who should be out there starting. For these guys it's about their performances on the track."