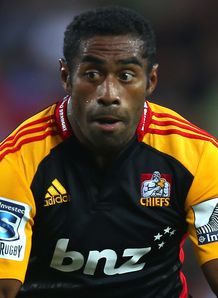 Despite winning back-to-back Super Rugby titles, Chiefs wing Asaeli Tikoirotuma admits he would consider a big-money move to Europe.
The Fiji international said he will do what's best for his young family when it comes to his future but only after winning his third Super Rugby title.
"If we can win this three-peat, I'll be happy to move on, or see what happens from there," Tikoirotuma told Fairfax Media.
The 27-year-old made his debut for Fiji during their end-of-year tour last year, which provided him with a chance to showcase his skills on the world stage.
His wife and three young kids were glad he had made it to the Fijian team, and know it could help them in the future.
"That's another story, playing international rugby, another level of rugby," added Tikoirotuma.
"I'm really happy with what I've achieved.
"It wasn't a goal at the start. Because I'm having a small family to bring up, I thought I'd play for Fiji and try and take my trade somewhere else so I can look after my family."
Tikoirotuma has made a rapid rise up the ranks. He started in the Heartland Championship with Wanganui, where he played for five years, before making the move to Manawatu in the ITM Cup in 2010.
Chiefs boss Dave Rennie was in charge at Manawatu at the time, and then brought Tikoirotuma to the Chiefs when he started coaching the franchise in 2012.
Assistant coach Wayne Smith believes Tikoirotuma would have fallen under the radar had it not been for the Chiefs coaching staff.
"We were pretty lucky having Dave Rennie, Tom Coventry and Andrew Strawbridge all coming from ITM Cup, so they know the quality of these young guys, and it gave us a real advantage when we selected that first team," explained Smith.
"Tiks is one of those that maybe no one else really knew about, but our coaches did.
"You know, he's won two championships now, just like Andrew Horrell. They've both proven to me that they're top-class players."
"Tiks is a player who we really recognise as having huge value. For me, system-wise, I think he's the best defensive winger in the country. He understands the game. understands how to cover their plays from the wing. He's a player that we're really happy for."