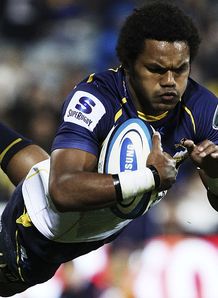 Brumbies wing Henry Speight is keen to realise his dream of playing for Australia after biding his time to become eligible for his adopted country.
Speight, who was born in Fiji, was among Super Rugby's top try-scorers in 2013 and is keen to continue where he left off when the Brumbies open their 2014 campaign against the Reds in Canberra on February 22.
The 24-year-old turned down an offer to train and play with his country of birth at the end of last year as he is confident that he has the ability to play for the Wallabies.
Despite last year's fine form, he had to sit back and watch as team-mates Joseph Tomane and Jesse Mogg made their debuts for the Wallabies in 2013. And Speight is using the duo's rise from obscurity on to the Test scene as inspirations for his Wallaby ambitions.
''The huge confidence booster for me was watching Joe and Moggy and knowing my fellow back-three team-mates could get there,'' Speight told the Canberra Times.
''It has given me the confidence that if I can do the same or better than what I did last year, I can be pushing for a spot on that right wing.
''[FormerBrumbies coach Jake White] has told me he wants to make me a Wallaby and my job is to believe in that 100 per cent.''
Because he played for Fiji as a junior, Speight had to spend three seasons in Australia before becoming eligible for the Wallabies.
His performances played a big role in helping the Brumbies to reach last year's final and he is determined to improve on that effort this year.
''My first goal for this year is to be in the starting team each week and from that score more tries and try to get a championship with the Brumbies - that's the ultimate goal,'' added Speight.
''I would love to lift the title this year and if we do everything right at the Brumbies, then higher honours with the Wallabies will take care of itself.''