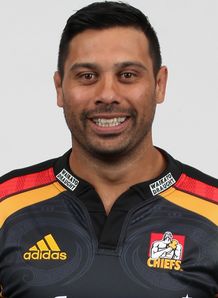 Chiefs lock Ross Filipo might now be 34, but the experienced former All Blacks second row still has plenty of ambition.
Filipo is one of a handful of contenders to replace inspirational former co-captain Craig Clarke in the engine room following his departure last season.
With his main threat coming from Michael Fitzgerald, Filipo is holding his weight in training and doing all he can to claim the jersey for himself ahead of the start of the new campaign.
"There are a few of us competing for it and the standard of the guys' work output has been really high so I'm just trying to keep up with those younger boys and hopefully at training put my hand up to secure a spot," Filipo told Fairfax NZ News.
"But I'm pretty happy to still be playing to be fair, so I'm excited about the opportunity, but whoever takes the spot I'll support 100 per cent."
"I'm a work in progress and I'm always keeping an eye on [the younger players'] speed times and what they're lifting and stuff like that, but obviously I'm at a different end of the spectrum to them and sometimes the constant battering catches up with me so I have to have an extra day's rest. But all in all I'm pretty happy with how I've been tracking."
Filipo's four caps for New Zealand between 2007 and 2008 are now long behind him, as is a stint in Europe with Bayonne and London Wasps after representing the Crusaders, but to him it feels as though no time has passed at all.
However when the time is right, Filipo will know and is more than ready to call it quits.
"When you sit there and look back over it it feels like it was yesterday, but when you look at the dates it's actually quite a long time ago," added Filipo.
"Someone said to me once you snap your fingers your career's over so you just try to enjoy it and I'm glad that I'm fortunate enough to still be playing at the age that I'm at.
"I don't want to be that guy that's playing inadequately at this level and still getting contracts. I still want to be playing well and earning my position.
"When I don't feel I'm doing that anymore then I'll probably pull the pin, or if the body gives up first, but I feel like I've still got a lot of good rugby left in me and I'm pretty motivated to play and still be successful.
"It is a young man's game but it's still tough to come up against us old tough dogs."