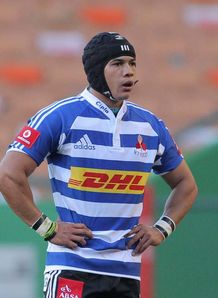 Stormers head coach Allister Coetzee has revealed that a "freak accident" means he will be minus speedster Cheslin Kolbe in the early season.
The youngster, who stood out in the Currie Cup and also for South Africa's Sevens team, must wait for his Super Rugby debut due to an injury.
"Cheslin will be out for at least eight weeks with a torn lateral meniscus. He will be operated on soon," Coetzee told www.iamastormer.com.
"It really was a freak accident. Someone collided with him and his foot was caught - and his knee (just) buckled.
"You normally get a few (injury) casualties at this time of the season, but it's a blow to lose an exciting player like Cheslin and, especially, because it will test our depth amongst our back three before the season has even started.
"We will keep our ears to the ground in terms of possibly recruiting a wing, but we will back what we have in the shape of our youngsters like Pat Howard and Kobus van Wyk - who deserve to be rewarded after their 2013 Under-21 season - and, of course, we also have Scott van Breda who is on loan with us from the Kings.
"We are lucky to have some exciting young players in our system," added Coetzee.
"We're also fortunate that there's great continuity between our Absa Currie Cup and Vodacom Super Rugby squads."