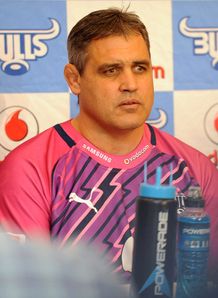 Frans Ludeke was in good spirits after an injury-free Bulls squad enjoyed their first week at full pre-season training ahead of Super Rugby.
In a boost to the Pretoria-based side after a mass exodus of players during the off-season, Pierre Spies was one of many to return to training.
Also involved in full training on Thursday were fellow Springboks Arno Botha, Francois Hougaard and Deon Stegmann, with Ludeke left pleased.
"Our first week of training was great," coach Ludeke told Beeld.
"November (pre-season training) was very good and I was satisfied with December.
"Regarding January, it's important to have all the injured guys back.
"Everyone was ready when we arrived here this week and came through the week successfully.
"The focus was on the basics and to get the details right, even though you make a few tweaks during pre-season.
"There is a very good balance between seniors and players who came through the system."