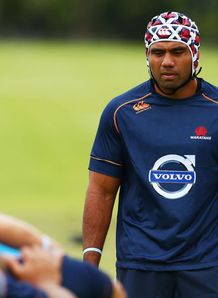 Wycliff Palu is back and ready to go ahead of the new Super Rugby season for the Waratahs after overcoming a knee injury.
Palu missed the remainder of the 2013 season following his involvement in the third Test against the British and Irish Lions.
The 31-year-old has struggled with injuries in recent seasons, particularly with his right knee, but will now be carefully managed in the build-up to the Rugby World Cup next year.
"It was very frustrating [sitting out the remainder of the 2013 season due to injury], but the knee is pretty good," Palu told the Sydney Morning Herald.
"I really enjoyed doing pre-season training with the boys and giving me time to work on a few things I needed to work on.
"We've talked about managing my workload, so there'll probably be a few training sessions where I'm pulled out earlier.
"But I'm not thinking too far ahead, it would be disrespecting the Waratahs. I'm just going to focus on having a good season with the Tahs and go from there.
"We really made some strides within the side last year, and I think the boys really know what to expect and can take on board what [Cheika] has brought in,"
Palu also reacted to the breaking news regarding Australia captain Ben Mowen's decision to move to France at the end of 2014 and miss the Rugby World Cup.
"I'm pretty surprised," added Palu.
"It must have been a pretty big decision to walk away from captaining your country, so it must have been a pretty big offer to make him walk away. If I was captain of Australia, I wouldn't be walking away like that, but it's up to him."