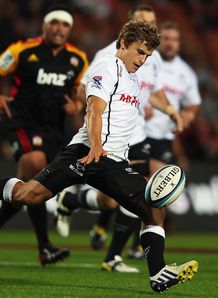 Related links
Also see
Sharks director of rugby Jake White has vowed that Pat Lambie will only play at fly-half in Super Rugby next season.
Still only 23 but with 32 caps to his name Lambie has been shifted around between fly-half and full-back throughout his career so far.
White believes though that Lambie is so good that he's been "messed around" when it comes to his selection for club and country.
"Let me say that Pat's a very good talent," said White.
"To be fair to him, because he's so talented, he can actually be messed around.
"It reminds me a bit of when (ex-Springbok back) Brent Russell was here -- he could play in so many positions.
"He's always on your bench because he's good enough, but then he tends to never find a position he can settle in."
Ignoring that versatility, White confirmed that Lambie would only play at number ten this season for the Sharks in order for his development to continue.
"Pat Lambie is going to play at number ten, that's it. He is not going to play anywhere else for the Sharks except at fly-half," added White.
"I'll tell him where he's going to play and then make sure I give him confidence and we'll do everything we can do to make him the best in that position. Then, whatever the national coaches do, it's up to them.
"But I know what role I'm going to give him and we'll coach him and get him playing that role for the Sharks.
"It's impossible for you to improve yourself as a player if one week you're playing 10 minutes as a full-back, the next week you're starting as a fly-half and then the next week you're on the bench as a utility back.
"That makes it impossible for a player to ever become better consistently."