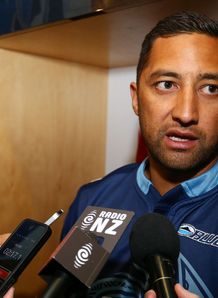 New Blues recruit Benji Marshall is seeking advice from former All Blacks coach Sir Graham Henry ahead of his maiden Super Rugby season.
Marshall is currently in the middle of his first full pre-season in five years and said that the Blues' technical advisor has become a good sounding board over coffee.
"He is an interesting character," Marshall told ONE News.
"Definitely different. I have really enjoyed his company.
"He speaks the truth and knows a lot about the game and I just wanted to pick his brain and learn some stuff about what he thought I could do in the game."
The former NRL stalwart revealed that his discussions with Henry are on a wide range of subjects, including his running game and positional play, but so far his pre-season has only really focussed on fitness and conditioning.
After the Christmas break skills and tactics will become more paramount and Marshall is keen to play in several positions.
"I like to be just in the team to be honest," he added.
"Wherever I end up - whether that be 10,12 or 15 - I don't care. Whatever is best for the team."