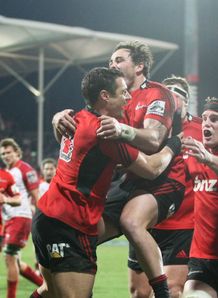 Crusaders CEO Hamish Riach is optimistic his side could host England when Stuart Lancaster's team tours New Zealand in 2014.
England's loss to the All Blacks at Twickenham last weekend and their win in the corresponding fixture last year has created speculation the two sides may meet in the 2015 World Cup final and Riach knows how much value the Crusaders could gain from playing England when they tour New Zealand next June.
In addition to the revenue from gate-takings the Crusaders would be exposed to TV viewers in the northern hemisphere market and also be able to keep their supporters engaged when the Super Rugby tournament takes a break during the Test window.
"To play England, especially around the amount of interest from the last couple of test matches (against the All Blacks) and with the World Cup looming, I think there is immense appeal," Riach told Fairfax Media.
"There is still a possibility we could play them. The decisions haven't been finalised."
Unlike the Chiefs, who are keen to face Heineken champions Toulon in France early next year, the Crusaders haven't added any northern hemisphere opponents to their schedule for their pre-season preparations.
Despite considerable interest from foreign sides over the years the Crusaders haven't accepted any invites. Time constraints, concerns over travel schedules and the availability of players have been cited as reasons to decline.
"We think about that constantly and have had many chances to do that over the years," Riach noted.
If the Crusaders accept a midweek match against England it is highly unlikely they will be granted a Test in Christchurch in 2014. It seems likely a deal would also be required by the New Zealand Rugby Union to guarantee a test is played in the city in 2015, World Cup year.
This year France played the Blues and John Kirwan's side, which was missing their All Blacks, suffered a 38-15 loss in Albany.
All Blacks coach Steve Hansen was unrepentant about holding on to the Blues players in his squad, despite several not being included the matchday side to face France a few days later.
This would be an issue for the Crusaders as they have contributed 12 players for the All Blacks' end-of-year tour and they may be worried about naming a watered-down side.
Riach believes that would be an issue to be worked through with the All Blacks management.
"If that game comes off it will be the Crusaders against England and we would have to put out the best side we possibly can," he said.
"But in the end we are not the sole arbiter of that."
The NZRU hold all the aces because all players are centrally contracted. The Crusaders, who are negotiating directly with the NZRU to host England, may not be the only franchise to bid for the match.
After facing France this season, the Blues are ineligible to apply.