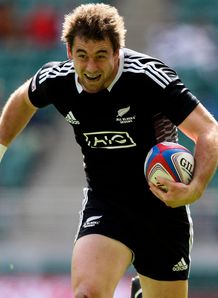 Related links
Teams
Also see
All Blacks Sevens ace Kurt Baker has decided to take a break from the shortened form of the game to concentrate on playing Super Rugby.
Baker has spent the past two years away from the 15-man game after suffering a back injury at the Commonwealth Games, instead plying his trade with the national Sevens team and with Taranaki in the ITM Cup.
However, the 24-year-old has put his Sevens career on hold in order to put all his energy into playing for the Highlanders.
"I had to make a call but I'm playing Super Rugby next year at the Highlanders. I've got two more years down there," Baker told Fairfax News.
"From my point of view, I've spoken to Titch [sevens coach Gordon Tietjens] and told him it's time to give someone else a go."
For the moment Baker's thoughts are focused on Tarankai, with the Amber and Blacks looking to break their duck this weekend against Southland and claim their first win of the season.
"From an outsider looking in, you probably think it's all doom and gloom, but it's not, it's just small things letting us down," he explained. "If we can fix those then we can be a good team.
"We have got the players, even the young ones, who I think are some of the best young ones around New Zealand; it's just finding out what works for us."
The New Plymouth outfit have scored just one try in two matches, but the full-back is confident they'll soon start notching up the five-pointers with ease.
"Sometimes we are getting the ball at the wrong time and when we are wanting it, we're not getting it, so it's guys knowing what's around them," he said.
"It probably doesn't look that good if you are outside looking in - people think we're not up to the standard they expect of us - but it's close."